May 17, 2017.  Strange dream last night.
I can unravel some of these threads.  Others, I won't even try.    I'm not a huge believer in subtle messages being communicated in dreams. 
On the other hand, this dream wasn't particularly subtle.   
I flew into a big airport somewhere, not sure what city, but I was there to make a "sales call" on an automotive plant.   I met my company's local sales rep at the baggage claim, and told him we'd need to wait for Mr. Browne, who would be joining us on the sales call.   He looked puzzled.
Soon, departing from another flight and there to meet us, who should come strolling up but none other than Jackson Browne.   He was wearing jeans, sneakers, a dark jacket over a black T-shirt, sunglasses, and with his guitar case in hand.
He took off his shades and put them in his jacket pocket, as we exchanged pleasantries. Then we went outside and got into a waiting Lincoln Town Car.   Jackson and I were in the back seat, my local sales guy in the front, driving.
I realized we were very early for our appointment, and I asked Jackson if he'd had a chance to have breakfast.   He said that he hadn't, but he was hungry.  I confirmed that was my condition as well.
So we went to a local pancake house on the highway, with a big sign out by the road that said, "Pancake House". My sales guy found a parking spot, we all went in and found a booth.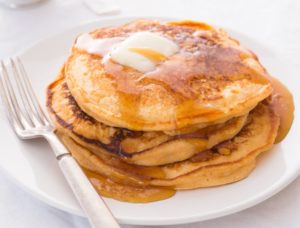 Jackson ordered a tall stack of pancakes and "coffee, hot and black".    I ordered the same, but also ordered fried eggs.   I asked Jackson if he didn't want to order some eggs too, and he just looked at me a little concerned and said, "Nah, man…. eggs will kill you!"   I told him that the notion that eggs would kill you had been completely debunked, and that eggs in moderation were an important part of a healthy diet.   He declined.
No eggs for Jackson Browne.  I had two, over easy.
We sat there and ate our pancakes.  Jackson and I talked about guitars and music and life and such. It was a far-ranging discussion, and I have to say that my sense (in the dream) was that I really, really liked this guy.
We talked about the environment, and being a responsible citizen on the planet, and about how important it is to "get involved" in social issues, with worthy organizations, and to give back to your community.   I told him about my volunteer advocacy work.  He seemed genuinely interested in my "causes".
(Side note:  Jackson Browne LOVES him some maple syrup.   His pancakes were soaked, and his plate was fairly brimming with it.)
Jackson found out in our talking that I play guitar a little, and he was very interested in the details of my guitars, including how they were set-up.  He wondered how I liked the LR Baggs Lyric pickup I have installed in my Martin D28, and wanted me to describe in detail how I EQ'd it, and how did I think it compared to other pickups I had used.  I told him I would gladly make a call and hook him up with Lloyd Baggs.  (this is John, back in "real life" here.  While I DO have a Lyric pickup in my Martin, I do NOT know Lloyd Baggs personally.) 
After we finished, we left the Pancake House, and headed for the automotive plant.   I do not know what brand of car it was supposed to be.  But like ALL automotive plants, it was absolutely HUGE.
But unlike  "real-life" automotive plants, from the outside the building  was utterly featureless.  Just a giant gray monolith .  The three of us went into the main lobby and waited.   It was very ultra-modern and futuristic inside.   Smooth surfaces everywhere, more curves than straight-lines.  The walls, floors, and ceilings … all of the same neutral gray material.  There was sort of a glow everywhere from indirect light of an indeterminate origin.
Soon a small Asian woman, very professionally dressed in a dark grey business suit, with wire-frame glasses, hair pulled tightly back and holding the new large iPad came out to greet us.  She escorted Jackson, my local sales rep and myself back to "The Engineering Department".    It was a very large room that was in many ways similar to the lobby.   Except for the fact that literally EVERYWHERE there were these featureless cubes and oddly-shaped rectangular solids scattered around the room.  Some were shaped like desks or conference tables, but they WEREN'T desks and conference tables.  Just featureless rectangles.
At each one, someone (or in some cases, several people) stood gazing at their cubes, seeming to write on it with a stylus, or even just rubbing their hands over it.   Apparently they were "working".  Though it was impossible to say what in heck they were doing.  Most were Asian.  But not all.  Most of them completely ignored us.
There was, however one tall blonde American woman who kept looking over at Jackson with sideways glances, trying to be discreet about it, but she was obviously intrigued, and wondering why in the world he was there.  The Asian woman we'd met in the lobby led us to one of these large rectangles, which was a little over waist high, and indicated that we should proceed with our presentation.
I began to talk.  I took out my own large iPad tablet and began showing her something.  Not sure what.   I was going on and on about …..*something*.   Honestly, I have no idea at all what I was selling, what I was talking about, or what the words coming out of my mouth even meant.  I know it was very "high-tech" stuff, and whatever it was I was trying to get them interested in, it was going to cost a fortune.   My sales rep just nodded in agreement with all that I said with a rather vacuous smile.  The woman was stoic and showed no reaction at all.   Jackson, for his part, just stood there uninterested and looking around the room, with his guitar case in hand.  Just looking, looking, looking around, taking everything all in.   He saw the tall woman eyeing him, and he nodded and smiled and said "hi".    The woman, embarrassed at having been found out, snapped her attention back to her cube.
When I was through with my rather lengthy spiel, having elicited essentially zero response from the Asian woman, she nodded, and said that they had arranged lunch for us.   Suddenly, we were outside, in some kind of smallish courtyard outside the factory, just next to a little nook in one of the walls.  It was a sunny day, but there were spots of shade under a few scattered trees. There were folding chairs everywhere.  We were seated, and had a box lunch.  A bento box.   There were factory workers spread out everywhere in the courtyard, just a few dozen at most, and all were busily eating their own lunches, and talking with the people near them.
Jackson was seated next to me, and we resumed our conversation from breakfast.
At one point he sort of just stopped and paused and looked at me and asked me a question.
"So tell me man, are you happy doing what you do?  I'm not talking the community stuff.  I get that.  I mean, the stuff that you were doing inside the plant there a while ago. Does it really make you happy?"
I had this sinking feeling, and realized I didn't know how in the world I was going to answer in a way that made sense to him.   Or maybe not even in a way so that it made sense to me.
I started to open my mouth, not sure what was I going to say …..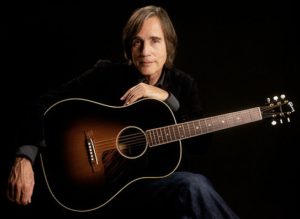 Suddenly, the Asian woman was there again and just said, "It's time for you to play."
Jackson, though he HAD his guitar with him (and there was no apparent OTHER reason for him to be there in the first place) was obviously a little surprised and maybe even perturbed.   "Really?" he asked in a questioning manner.
Out of nowhere, there was a little raised stage with a stool and a microphone that appeared right there in the front of the courtyard area.  Jackson went to the stage, and I went along as well.   I stepped to the mic as he got his guitar out and tuned up.   I looked out on the assembled and said, "Ladies and Gentleman, this is a treat.  Trust me; this stuff doesn't happen every day … not even in Nashville where I live.  It is my honor to present for you, my great friend, Jackson Browne!"    I took a seat out of the way at the edge of the stage, and Jackson sat down on the stool at the mic.
He looked out over the crowd, and then looked at me.  Then back at the crowd.
He randomly plucked a few notes, and said, "I'm glad to be here with John today and to have the privilege of playing for you all.   I'm going to start with a song that I wrote just for you."  A bit more random playing. "I guess I should add that at the time I wrote it, I didn't KNOW I was writing it for you.  …. But apparently I was."    Then he looked back at me.
It was bright out.  He pulled his sunglasses out of his jacket pocket and put them on and smiled.
Then Jackson Browne, seated in a courtyard outside a nameless monolithic automobile plant, for a crowd totaling maybe 50 or 60 people at most, launched into the most astounding and heartfelt version of "The Pretender" that I've ever heard.
He played a number of his other wonderful and amazing songs as well, though that's the only one I "heard" in my dream.  He told stories and anecdotes between the songs.  He was personable, funny, totally engaged in what he was doing, and just, well …. in his "element".
After one song, he stopped and handed me his guitar and said, "Let's hear one from John, shall we?"
I was REALLY taken aback, and more than a little panicked.   But I pulled another stool up to the microphone as the "audience" politely applauded.
I asked Jackson for a capo, and he handed me one.  I put it on backwards at the second fret, so it only covered the bottom five strings.   Jackson looked skeptical.
Then I said, "Ok.  Here's one that is pretty much a never-ending work in progress."  I looked over at Jackson.  "Sort of like me I guess."
He smiled.
I went on:  "I call it 'Coolsville Lunch'.  I play it when I think about how nice it would be, just hanging out and chilling with absent friends."
Somehow I made it through the tune without embarrassing myself.

Next thing I knew we were back at the airport, and Jackson was getting ready to board his flight.
"It's been real" he said.  (No, the irony of that statement is not lost on me now that I'm awake).
I said, "Hey.  Thanks man.  Listen, I've got this dear friend Cathy.  She has GOT to be one of your biggest fans. Seriously.  For years.  I remember her listening to your music almost obsessively back when we were neighbors in college.   Would you mind signing an autograph or something for her?"
"I can do better than that." he said. And he opened up his guitar case and took out a really nice hand-tooled leather guitar strap that said "Jackson Browne" on it.  I recognized it was from Long Hollow Leather in Franklin, TN.  Very nice.  (I've got one too, but mine doesn't say "Jackson Browne")
"Think she'd like this?" he asked as he handed it to me.
"She'll love it."
He also reached in his jacket pocket, and pulled out a note-card with some abstract art on the front from a young woman who is an artist with autism.  He penned a quick note, and handed it to me.
I looked at it and read:   "For Cathy.  Kind thanks for listening. – always, Jackson Browne"
Then he picked up his guitar, and headed down the jet way.
I called after him….. "What about me??"
He laughed back over his shoulder.   "C'mon man! I already gave you your gift!"
That's when I woke up.
Craving pancakes.
 – John